In this competitive landscape, people are looking for outstanding sources of investments, and Metaverse stocks are one of them. However, the whole process is not that simple. You must be very calculative regarding several critical steps to pocket the maximum possible advantages. Otherwise, you may end up investing money in unnecessary items and products. If you are looking for a comprehensive guide to start your journey by investing in the stocks of Metaverse, you are at the completely right place. We have explained the necessary processes step-by-step, including potential opportunities, risks, and key concepts.
What is Metaverse Stock?
Metaverse stock is the shares operating within the company or providing services to this widely famous platform. Generally, it refers to a virtual place where people and potentials can contact each other to socialize and work with each other. In this way, you can trade digital assets with the utilization of various technologies, like Virtual Reality (VR) and Augmented Reality (AR). These stocks belong to firms involved in VR/AR hardware, online gaming, virtual real estate, and social platforms. Investing in them offers a direct route to explore the lucrative industry of Metaverse, taking your experience to the ultimate level. Nevertheless, certain risks are associated with it, such as competition, regulatory changes, and market volatility.
Guide to Invest in Metaverse Stock
To help you go through the complete process, we have established this guide to invest in Metaverse Stock.
1 – Understand the Metaverse
Firstly, you have to understand what Metaverse is. It is nothing but an interconnected environment of the digital world where you can engage with other people. Through this, you can earn insights into the storage and trading of different assets. Further, it incorporates numerous technologies. Among the top ones are Virtual Reality and Augmented Reality. By utilizing them, you can perform a wide range of activities, from gaming and social interactions to education and commerce.
2 – Learn About Metaverse Companies
Secondly, you must research well to learn more about the Metaverse companies to find the best in the business. It helps you invest your money in the right platform to ensure its safety and exclusive associated perks. You should always look for companies involved in VR/AR technology, digital asset management, online gaming, and virtual real estate. Through the availability of these numerous options, you can have an opportunity to invest in multiple ones for more benefits and advantages.
3 – Key Investment Opportunities
Next, you have to find which key investments can bring you the desired outcomes. Not all metaverse stocks bear the same potential to perform in the market. However, investing in options like VR/AR hardware, digital Asset marketplace, social platforms, and virtual real estate proves mighty effective in this competitive environment. All these technologies are currently in demand and performing at their best in the market. You only need to research a bit well to cover the best opportunities rightly available.
4 – Assessing Growth Potential
After researching the companies and evaluating the investment opportunities you want to secure, it is crucial to assess their growth potential. Go through the web and social platforms to check the credibility and analyze the performance in recent times. It helps you a lot in deciding whether you should invest. Other factors to consider are technological innovation, user adoption, financial stability, and partnership deals with other companies. The more strengthened network a company features, the more will be its authority.
5 – Managing Risks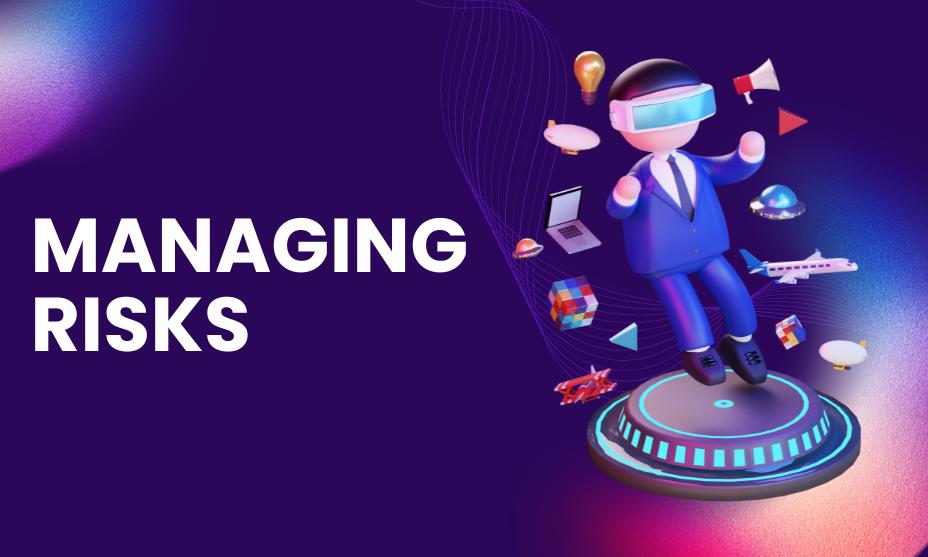 Investing in Metaverse stocks comes with numerous risks because of several factors, including market volatility and regulatory uncertainty. Competition and technological challenges are other critical factors decreasing these stocks' profit and benefit range. But, with effective strategies, you can manage these risks in an exceptional manner, securing enough benefits for your business. Keep a continuous eye on the updates and regulations to stay competitive and move upward in the company.
6 – Diversify Your Portfolio
Relying on one Metaverse company and investing all of your money in their stocks is good, but you should diversify your portfolio to different companies. It largely mitigates the risk of investment loss. If the investment in one company is causing a loss due to poor performance, you can make the loos through the profit generated by the other. After the fixed interval of the contract, you can withdraw your money to invest in the one providing you with maximum benefits. Hence, you can save your original money.
7 – Stay Informed
Staying informed with the latest marketing trends is also important to keep going in this extremely saturated market and pocket the maximum revenue possible. Do proper research before investing in Metaverse stocks. Also, stay updated with the latest trends and related news to find the punch point for more money. To get the most precise knowledge, follow the top-rated news platforms for better outcomes.
8 – Long-Term Vision
Investing in the Metaverse stocks is not a simple process. Infact, it is a long-time perspective, and you have to be very patient to pocket its full perks. Therefore, you need long-term planning to maintain overall growth and sustain your position in the market. While short-term fluctuations can put you at a higher risk of losing your money, you must be careful when extracting the investment to minimize the loss as much as possible.
9 – Monitor Performance
Monitoring the performance of Metaverse stocks in the market helps you learn about new trends and potential drawbacks of your current investment strategy. Try to make adjustments based on new plans and changes in the market.
Final Verdicts
Investing in metaverse stocks puts you on the top by offering significant opportunities for growth. But, conducting thorough research is essential before deciding on a company. Furthermore, managing risks and maintaining a long-term perspective. Understanding the metaverse and identifying promising companies can unlock new doors to success. Also, try to stay informed with the latest advancements and technological evolutions. As a result, you can position yourself for potential success in this dynamic and rapidly evolving field quite conveniently and effortlessly.