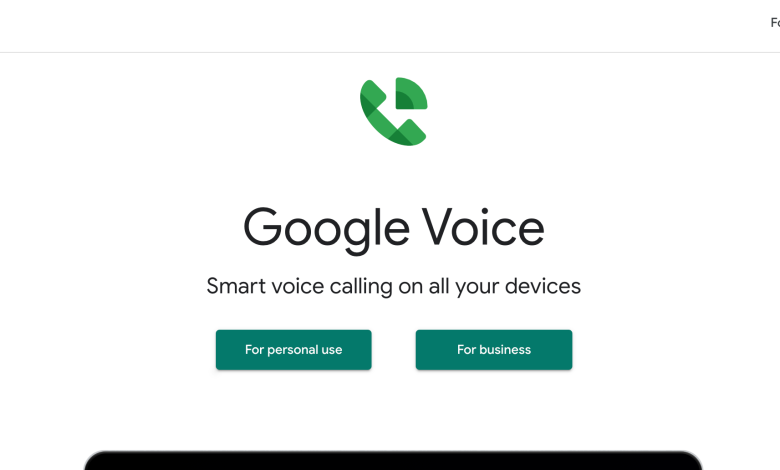 In today's business world where communicating with customers reigns supreme, Google Voice has been a leading communication tool for some time. In recent times, however, many businesses have started exploring other customer support service options and alternatives to Google Voice.
If you are also seeking a reliable alternative to Google Voice, we've got you covered. In this article, I will take you on a journey through the top 5 Google Voice alternatives that have emerged to redefine the way businesses connect with their customers. From user-friendly contenders to feature-packed options, you will discover the perfect alternative communication solution for your needs.
So, if you're ready to explore exciting alternatives to Google Voice, then get ready. Let's dive in!
Best Google Voice Alternatives in 2023
I ranked the best alternatives to Google Voice based on the features, pricing, benefits, and cons. Here is a list for you:
1. RingCentral
RingCentral is a cloud-based Voice over Internet Protocol (VoIP), a communications and collaboration platform, that offers much more than an internet phone system and is first on our list of Google Voice alternatives.
Notable Features
Video: RingCentral allows you to host video conferences for more than 24 hours on mobile phones and desktops. Participants can share their screens and use several integrations like a virtual whiteboard for text and shapes.
Messaging: You can send a private or team message to others. Participants can pin important texts and share documents.
Cloud Phone System: This allows international, toll-free, and local number calls in more than 200 area codes which different users can share.
Business Analytics: RingCentral offers KPIs within its dashboards that allow businesses to view trends, graphs, and important data to improve customer experience and service.
Pricing
RingCentral offers three plans. They include:
Core: This plan has unlimited VoIP in the United States and Canada. It also comes with a team chat feature, 25 SMS per user, 100 toll-free minutes, 100 participants in a video conference, and multi-level IVR. It costs $20 monthly per user.
Advanced: You can add up to 300 integrations, 1000 toll-free minutes, 100 SMS per user, and business analytics features. Price is $25 per month.
Ultra: This allows up to 200 participants in a video conference, 10,000 toll-free minutes, and advanced business analytics. The price is $35 monthly.
Benefits
It allows up to 300 app integrations
It allows team collaboration
It is mobile-friendly
The dashboard is simple and has unified communication systems; messaging, voice, video, and chat.
Cons
Hard to configure sometimes
Poor customer service
The mobile application doesn't contain some necessary features.
Each plan comes with an SMS user limit.
2. Nextiva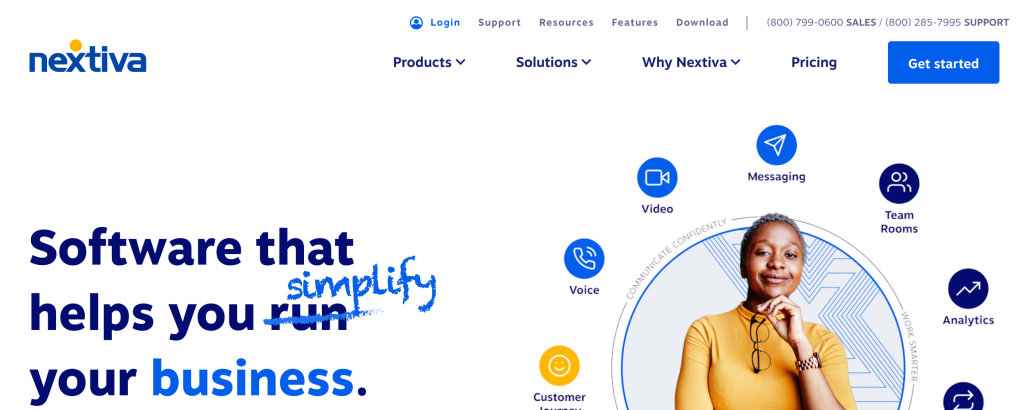 Nextiva is another Google Voice alternative for businesses on this list. This is one of the best VoIP telephony providers that allows small and large businesses to carry out inbound and outbound calling campaigns.
Notable Features
Video Conferencing: This tool allows video conferencing for up to 250 participants.
Calling: Customer service agents can call and communicate with customers at a go.
Voicemail: This tool allows voicemail transcription and voicemail to SMS and email forwarding.
Pricing
Nextiva offers three pricing plans:
Essential: This costs $18.95 per month. It has unlimited VoIP calls in the United States and Canada. It comes with 1,500 toll-free minutes every month, private and team meetings, and call groups.
Professional: It allows up to 40 participants in video calls, 3,000 toll-free minutes, screen-sharing features, and CRM integrations. The price is $22.95 monthly.
Enterprise: It allows up to 250 participants for video conferencing, 12,500 toll-free minutes, and multiple integrations like Oracle Sales Cloud.
Benefits
Excellent customer service
Intuitive interface
Excellent audio quality
Good mobile app
Cons
Few application integrations
Expensive plans
Long training process
Recordings auto-delete after 30 days
3. Grasshopper
This Google Voice alternative is best for both remote and in-house businesses. It offers plans for calling and texting alone.
Notable Features of Grasshopper as a Google Voice Alternative
Phone Numbers: Grasshopper provides toll-free and local custom phone numbers across the US and beyond.
IVR: You can create a self-service virtual receptionist that provides your incoming callers with routing options. You can link your calls to a live customer agent who answers questions, schedule appointments, and resolve issues.
Automated Greetings: Apart from an IVR, Grasshopper allows users to create automated voice notes for greetings, welcome messages, away messages, and voice mailboxes.
Transcription of Voicemail: Grasshopper transcribes voicemails into text messages and emails.
Pricing
Grasshopper has three plans:
Solo: It offers 1 phone number and 3 extensions. It costs $28 monthly per account.
Partner: It offers 3 phone numbers and 6 extensions. The price is at $46 monthly per account.
Small Business: It offers 5 phone numbers and unlimited extensions. It costs $80 monthly per account.
Benefits
It is affordable for small businesses
It has a simple interface
Great voicemail features
Ease of use
Cons
Few app integrations
Lacks many important features for a VoIP
IVR setup can be confusing
4. Zoom Phone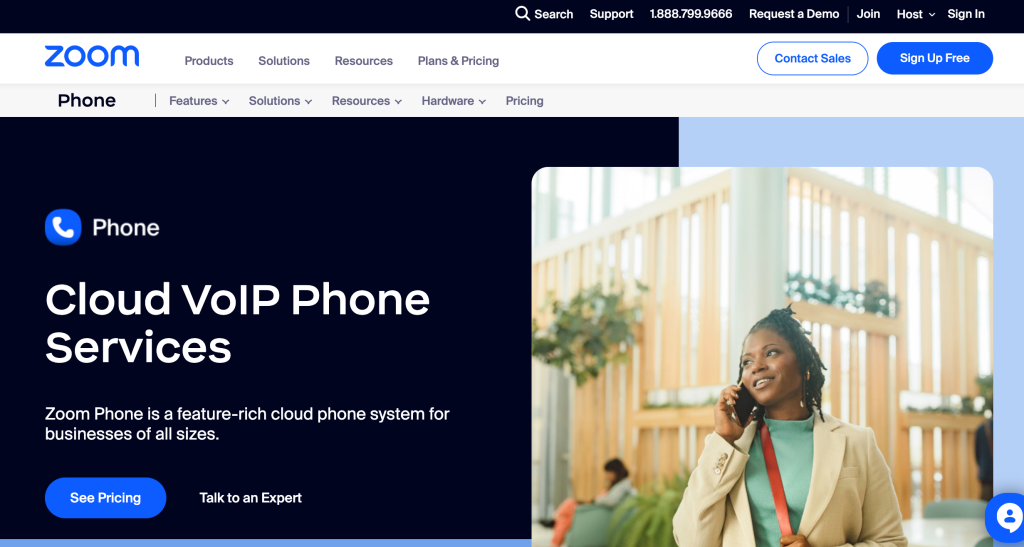 This is a product of the popular Zoom platform and one of the best Google Voice alternatives for business. This tool is available on both mobile and desktop devices. This VoIP system comes with a team chat and can easily integrate with Zoom's other applications.
Notable Features
Calls to Meeting Transition: Customer agents can transit calls to Zoom meetings automatically without needing a specific link to add participants.
QoS Dashboard: This is also called the Quality of Service dashboard. Zoom displays the quality of voice calls based on the phone type, call queue, user, and common area phone. With this, you can view the quality of calls you receive.
Analytics: Users can get real-time reports on call metrics. This includes outbound and inbound calls, International calls, missed and completed calls, and the overall call received in a day, week, or month.
Pricing
Zoom Phone comes in three pricing plans. Each of the plans has the same features such as voicemail transcription, toll-free minutes, real-time analytics, team chat, and unlimited IVR. The plans are as follows:
The US & Canada Limited: This costs $10 per month. It allows pay-per-minute calls within the United States and Canada
The US & Canada Unlimited: This offers unlimited calls within the US and Canada with an additional unlimited calling to about 19 other countries. The plan costs $20 monthly.
Pro Global Select: This plan offers unlimited domestic calling within 40 countries outside the United States with an option for unlimited calls to 19 countries.
Benefits
Affordable plans
Easy to use
International calls come with add-ons
Integrates easily with Zoom's products
Cons
Advanced video conferencing features will cost extra
Limited app integrations
5. Ooma
Ooma is a cloud phone system for business. It is a free Google Voice alternative that offers call distribution, voicemail, and so much more. It provides both local and toll-free numbers for users.
Notable Features
Video Conferencing: It allows you to add up to 100 participants when conducting meetings from anywhere in the world.
Call Features: Ooma comes with call queuing options that allow call routing, blocking, and recording.
Virtual Receptionist: This allows you to automate and manage customer calls.
Integrations: Ooma has a CRM integration and can easily integrate with different apps like HubSpot and Salesforce.
Pricing
Ooma offers three virtual plans. They are:
Essentials: This includes the mobile application alone. It comes with unlimited VoIP to Canada, Mexico, and the US. It comes with one toll-free number, call forwarding, and voicemail. The plan costs $19.95 a month.
Pro: This includes both the mobile and desktop applications. It allows 25 participants to video conferencing, voicemail transcription, SMS texting, faxing features, and call recording. This pricing plan costs $24.95 per month.
Pro +: This costs $29.95 per month. It allows 100-participant video conferencing, shows call analytics, and allows CRM integrations.
Benefits
With Ooma's virtual receptionist, you can schedule up to five calls.
It offers 911 services to users
It simplifies calls by dialing 7 digits instead of 10 digits like other platforms.
Cons
Ooma can be confusing to use at times.
Ooma's faxing features can only add one page one at a time.
Should You Go for a Google Voice Alternative or Not?
For new businesses looking for simple features that are easy to use, Google Voice or any free Google Voice alternative is a good choice. However, if you want more advanced features like business analytics, video conferencing, private and team messaging, and call monitoring, then consider using another VoIP telephony provider.