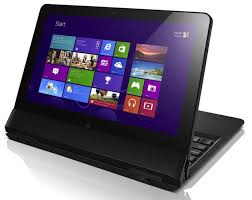 Lenovo is one of the most reputed brands in the IT industry today. The company is employing two thousand engineers and designers. The company excels especially in business laptops. It's Lenovo ThinkPad Helix with its performance and mobility is proof of this. You will be able to create share data, presentations, edit documents, etc. Because of its specific design, it can be utilized in various modes such as stand mode, tablet mode and laptop mode. This can be carried along conveniently as a tablet or laptop or can be easily set up in any office on a desk. This new ThinkPad need not be used for the purpose of business and can be utilized for daily tasks like emailing and browsing.
It has become convenient for users to interact with devices and navigate through programs because of the Windows 8 Interface. TrackPoint pointing technology has been used for making the trackpad. This permits a variety of gestures. Besides the keyboard, it also has spill-resistant surface that is durable. The option of adding a pen and a digitizer to the system is also there. The touch screen technology is enhanced by these tools by ensuring more flexibility and support for gestures. Since computer converts different styles of handwriting to digital text, you can have precise control. Slot built is there onboard for the stylus storage. Get one using coupons for Amazon India.
The Helix has a detachable screen, providing it with additional portability. It has USB ports (3.0) and a mini Display Port. Its battery can function for about 9 hours. This advantage itself makes new Lenovo device an attractive choice for mobile users. The display has been protected by edge-to-edge Corning Gorilla Glass. This is vibrant and provides an experience of immersive viewing. It has 11.6-inch display widescreen featuring IPS technology. This display is perfect for users who wish to enjoy entertainment too. Users can view the movies in absolute high definition on 1920X1080 displays.
To begin with this ThinkPad has a memory of 4 GB. Double of this amount can be added as additional memory. It is able to handle any task or program with 8GB. The storage is in form of the Solid State Drives. You can begin with the default option of 128 GB or upgrade to 180 GB. For a small PC it's processor is very powerful. Up to 2.70GHz can be offered by Intel Core i5 processor and this is only the base option. You can use i7 processor which offers 3.20 GHz for better speed and power.
Lenovo ThinkPad Helix might be used as an office laptop, portable laptop and tablet etc. This could be customized for suiting the taste of the users. In other words, it has much more to offer compared to tablets and new notebooks. In case you want to get this machine, it can be got much cheaper by using Thinkpad Helix coupon codes. New Helix notebook will offer what you require for business activities and other tasks.