The college admission process can be an extremely stressful and daunting experience. But C2 Education is an online platform that helps students in simplifying the process of getting admission into different top colleges. It provides a one-stop shop for everything that is required in college admissions such as researching colleges, preparing for tests, and doing many activities for the purpose to get admission. Interestingly, it's all online, you can access it anytime, anywhere. Your all problems have been solved now in the presence of C2.   In this article, you will know all about C2 education and its process and how it helps students while they have to get admission to their favorite colleges.
What is C2 Education?
C2 Education is a tutoring and educational company that offers students of all ages the opportunity to receive personalized instruction and improve their academic performance. Founded in 1997 by David Kim and Jim Maerovitz and operating now over 150 centers across the country. In addition to providing one-on-one tutoring, It also offers small group classes, online courses, and test prep services. So whether your child is struggling with math or wants to get ahead in their studies it helps them reach their full potential.
C2 Educaiton Mission:
C2 Education is an organization that helps students from all disciplines achieve their higher education goals. With centers across the United States and quality-driven counselors, C2's mission is to ensure each student reaches their academic potential and achieves acceptance into the college of their dreams. Beyond providing guidance with academic planning, entrance exams, and applications, counselors also help build the confidence of each individual student by focusing on their unique strengths and helping them discover which schools are right for them.
Through tailored guidance and strategic preparation techniques for tests such as the SAT and ACT, C2 helps students see measurable improvement in both performances on these tests as well as overall classroom success. By providing every necessary tool for success in higher education along with an encouraging atmosphere of support, C2 has become a leader in college-prep consulting.
How C2 Education Works in Admission Counseling Service?
C2 Education is a global leader in education services, helping students to attain what they are looking for. Specializing in supplemental tutoring and admissions counseling, It takes a holistic approach to learning by creating personalized programs based on the student's learning style and goals. Through their convenient online platform, C2 provides individualized attention as well as tailored support for every level of the student. Moreover, they also offer admissions counseling services with world-class college advisors who provide helpful guidance throughout the entire process. Its purpose is to empower each student to achieve success both inside and outside of the classroom.
Benefits of C2 Education: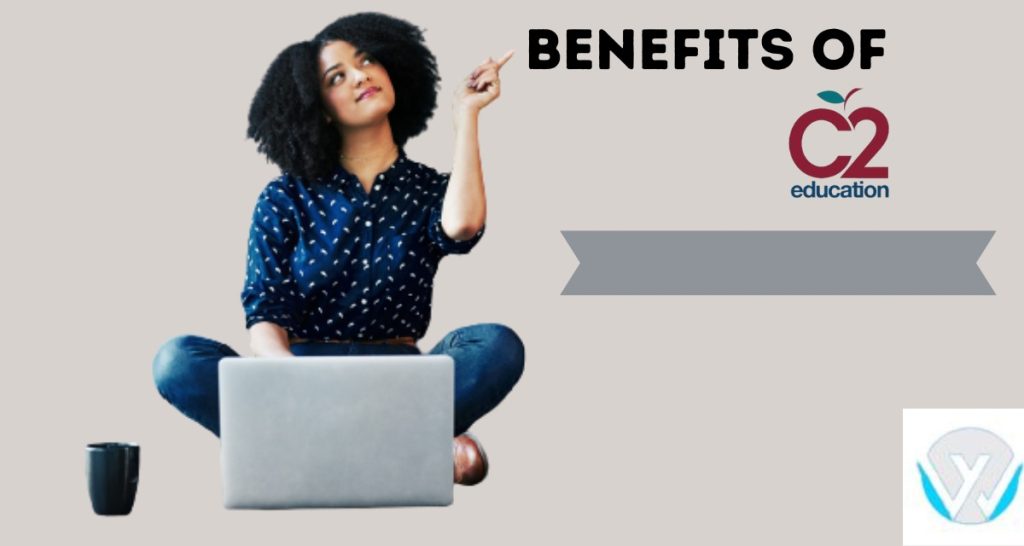 C2 Education is a great asset in today's study environment; there are numerous advantages to be gained from implementing this type of educational approach.
With C2, students can benefit from small class sizes, personalized tutoring sessions, and close interaction with teachers.
C2 also places an emphasis on studying beyond the usual books and curriculum, encouraging students to pursue research projects and independent studies. This diversification of knowledge helps foster creativity, and critical thinking skills and encourages interactive learning. With its flexible schedule,
C2 can help ensure that students get their work done on time without feeling rushed or overwhelmed.
Ultimately, these aspects make C2 a great option for students who want to maximize their educational experience.
C2 Advice for Students in the College Admission Application Process:
If you are a student who is just beginning the college application process, C2 Education has some great advice, stresses that organization and planning are key in streamlining the process, helping to ensure that all deadlines are met, also recommends researching schools to find the best fit for your interests and additional resources; asking teachers, counselors, and peers for advice regarding application components and staying calm despite busy schedules or unforeseen obstacles. It offers potential students valuable tips to take the stress out of college applications and make the experience a positive one.
A Team of Experts in C2 to Help Students:
There are many difficulties that come way when students have to get admission to different colleges. Mostly the students find that they are facing problems to complete their documents and conditionals. But remarkably, c2 is a tremendous asset there is a team of experts in career counseling to help students while getting admission into different colleges.
It allows students to get assistance with the college application process, ensuring they have complete and accurate documentation and the best opportunity to be accepted. The team of experts can also provide insight into college visits, helping the student choose the right college for them based on their interests and goals. With this guidance, students can make informed decisions that move them closer to achieving their educational and professional aspirations.
How C2 Education has Helped Students to get Admission to Top Colleges?
C2 Education has been helping students reach their academic goals for over two decades, and their track record speaks for itself. Hundreds of students have earned admission to some of the top universities/colleges in the world, such as Harvard, Yale, and Stanford.
It provides a wide array of services that help students maximize their potential throughout all stages of their educational journey from elementary school through college. With experienced tutors who specialize in numerous subjects combined with test prep advisors who guide our families through the sometimes daunting college admissions process, there is no doubt many alumni have achieved success at the collegiate level.
Conclusion:
C2 Education provides a comprehensive approach for students pursuing academic excellence. They offer guidance and support through the college application process that can help alleviate some of the stress associated with applying to college. Remarkably, it provides tutoring and test prep services that can help students achieve their academic goals and prepare for their desired academic program. With this help, countless students have been admitted to some of the best universities/colleges in the world. You may get also advantages and guidance for securing your future line.