SEO
Trending
10 Best SEO Blogs to Follow This Year
SEO (search engine optimization) is a process of optimizing your website to influence the level of its visibility in organic search results. It is one of the best and most effective digital marketing techniques for businesses and brands as it drives more organic traffic and opportunities to generate more sales.
In addition to its importance, SEO has become a desirable skill and one of the hottest professions around the globe. Here is one more thing to consider about this marketing tactic is that its techniques are constantly changing, based on changes made to Google Search algorithms.
To help you keep up with current SEO trends, insights, and methods, we have compiled a list of the best SEO blogs to follow this year and beyond.
1- Backlinko
Hottest SEO news is always waiting for you over here on this blog. Just keep visiting the blog or sign up for their newsletter to get SEO tips and guides right in your inbox.
Backlinko is one of the most popular single-author SEO blogs. Brian (the founder) rarely publishes content on his blog but when he does, he provides something really great about SEO and digital marketing.
The quality over quantity approach is used to keep the blog updated. From beginners to experts, most SEOs and small business owners have learned a lot from this blog.
URL: https://backlinko.com/blog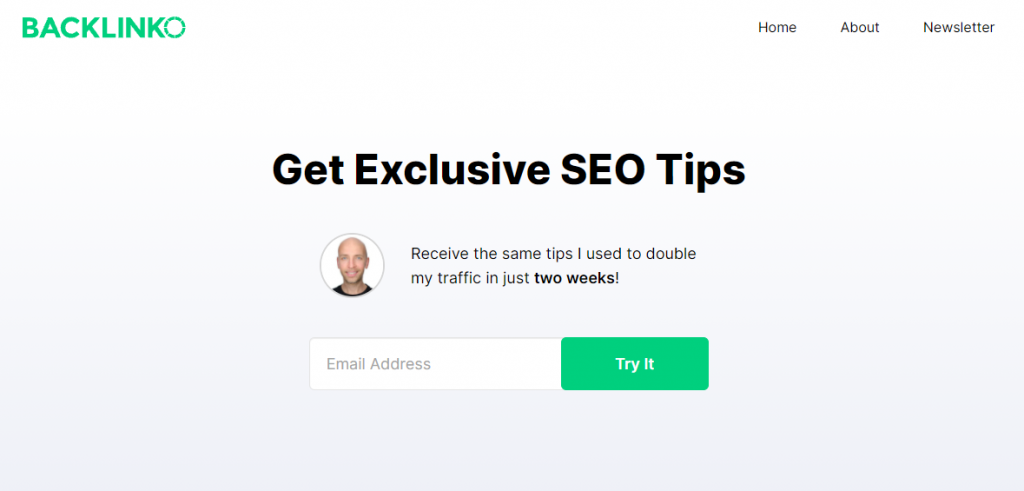 2- Neil Patel
Neil Patel is one of the most famous SEO professionals and is best known for his work in the field. He is the founder of popular SEO tools Crazy Egg and Ubersuggest.
He is not only famous for his digital marketing entrepreneurship, but he also provides the latest SEO updates and insights that webmasters and small business owners adopt to secure higher rankings in search results.
You can either visit his blog 'Neil Patel' or signup for the newsletter to get the latest SEO news and tricks right in your inbox. He also creates and uploads SEO-related guides and topics on this YouTube channel for visual learners.
If you also want to learn the fundamentals of search engine optimization or hone your skills, you should follow and subscribe to the blog.
URL: https://neilpatel.com/blog/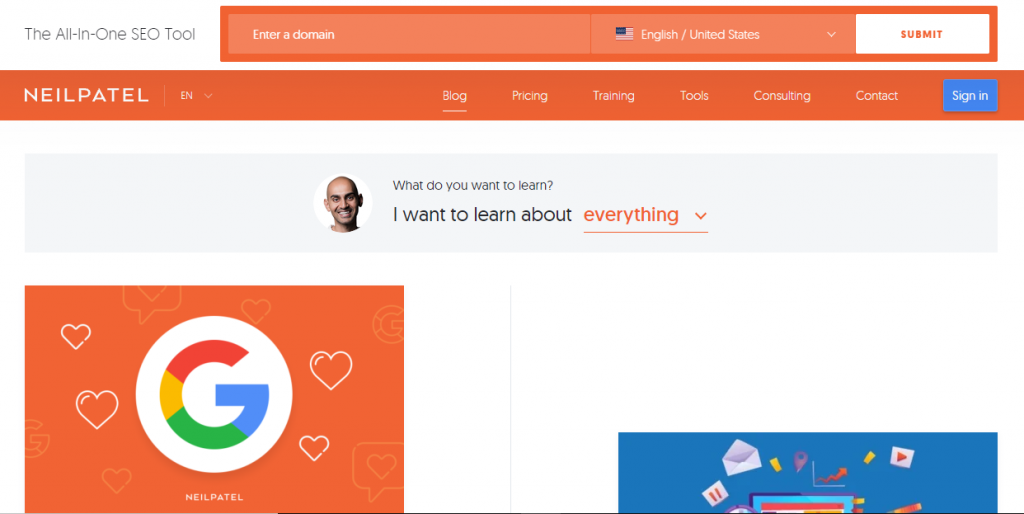 3- Ahrefs
This is not just an SEO tool to provide in-depth insights into web pages but Ahrefs is also best known for its SEO blog that provides the latest online marketing tips and search engine optimization related topics.
You can follow the blog to improve your skills in different areas like SEO, link building, SEO studies, and technical SEO etc.
The best thing about this blog is that you can read it without facing lingual barriers. You can conveniently change the language by scrolling to the language tab.
Currently, you can read the blog in six languages, including Dutch, Italian, and Spanish.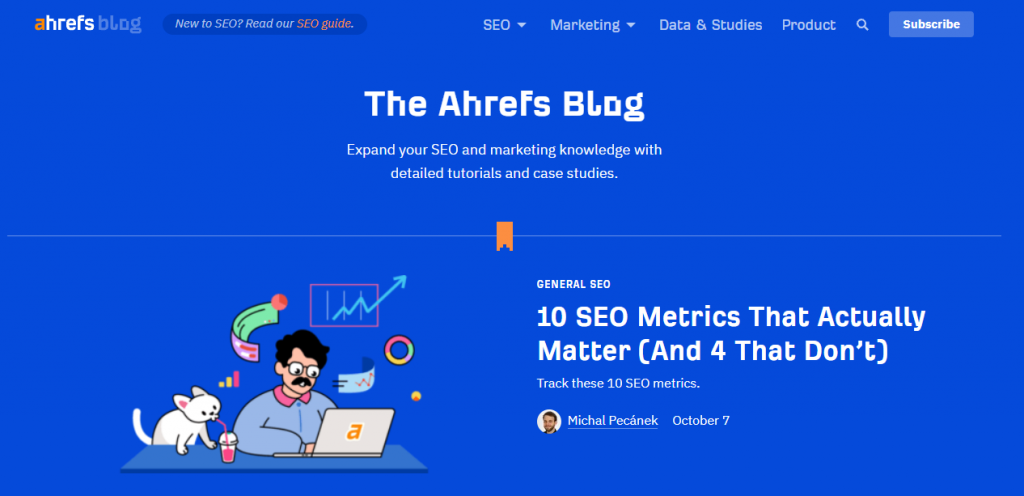 4- Search Engine Land
Search Engine Land is one of the best and must-follow SEO blogs around the world. You can find a variety of search engine related topics on this blog to sharpen your skills effectively.
Authors provide data-driven and deep insights about search engine optimization and the latest techniques to rank higher in search engine result pages.
MarTech and Marketing Land are the sister blogs that you can also follow to stay updated about what's happening around in the search engine industry.
By following the blog, you can also get SMM techniques and digital retail trends along with getting SEO news and updates.
URL: https://searchengineland.com/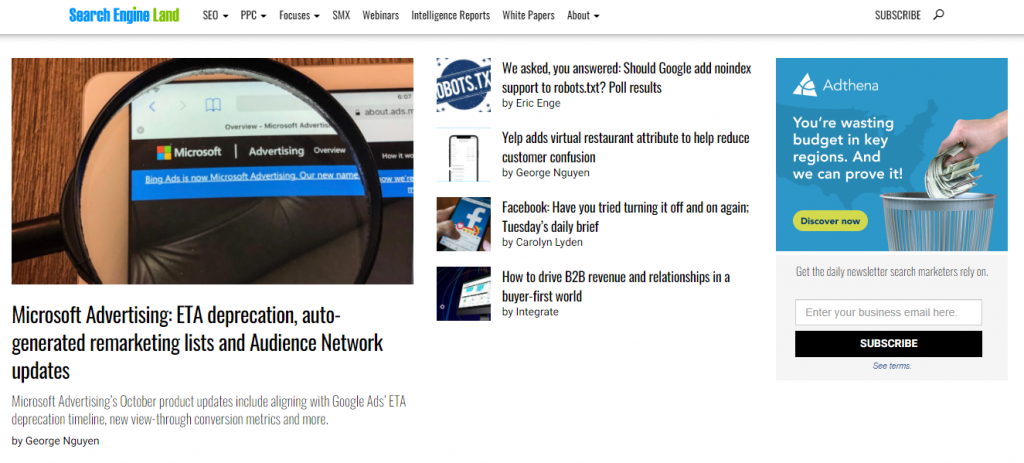 5- Search Engine Watch
Looking for a reliable source of information about SEO and SEM (search engine marketing)? Search engine watch is the best choice for both beginners and professional marketers.
You can also find more specific categories on the blog such as Google Algorithm Updates, social media marketing, PPC, analytics, mobile, and more. In this way, you can find and read more relevant blog posts as per your interests.
The analytics section of the blog allows you to get in-depth insights about current marketing endeavors and make necessary changes based on available numbers to stand out.
It is an all-in-one blog for digital marketers to learn and improve skills in almost all aspects of digital marketing.
URL: https://www.searchenginewatch.com/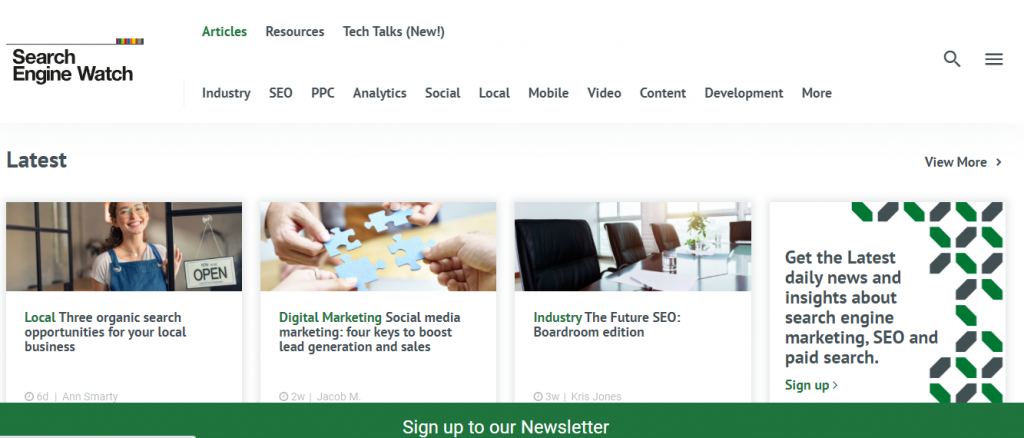 6- Nogentech
You are already familiar with this blog on our list because you are reading this blog post right here.
It is a multi-author blog that not only publishes content about SEO topics and digital marketing but about the latest tech updates, gadgets, and more.
We follow the quality over quantity approach to provide valuable readers with insightful information and updates on a regular basis.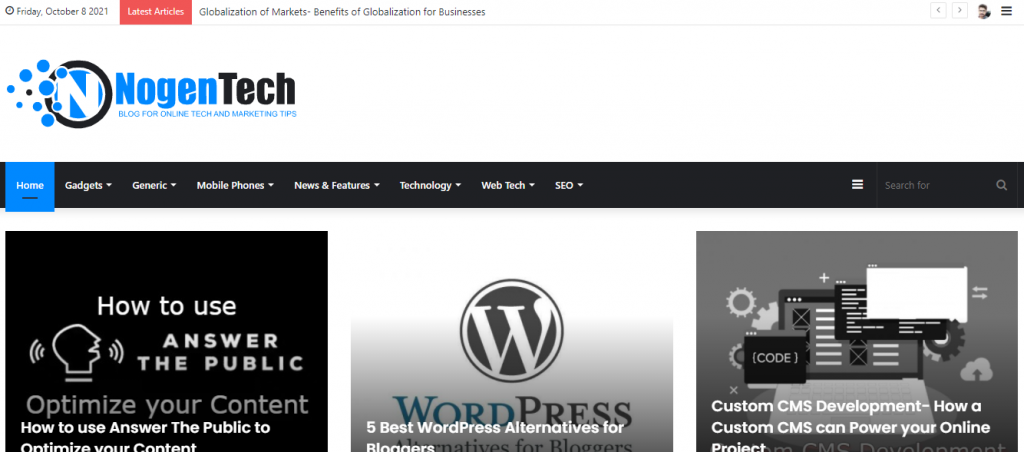 7- Yoast
Have you installed Yoast SEO on your WordPress blog or website for quick and easier optimization? They also have an SEO blog to provide their users with SEO information and updates for both beginners and experts.
From SEO implementation to optimization, you can get all on this platform to stand out in search results.
You can navigate through different categories on the blog to read and learn about specific SEO topics or studies. Clicking on the particular tag below the post will steer you towards a specific and detailed post written about that topic.
Not only this, you can also join their SEO training program to hone your skills to optimize your own site or for your clients.
Keyword research, SEO copywriting, technical SEO, and SEO guides are the popular categories on the blog.
URL: https://yoast.com/seo-blog/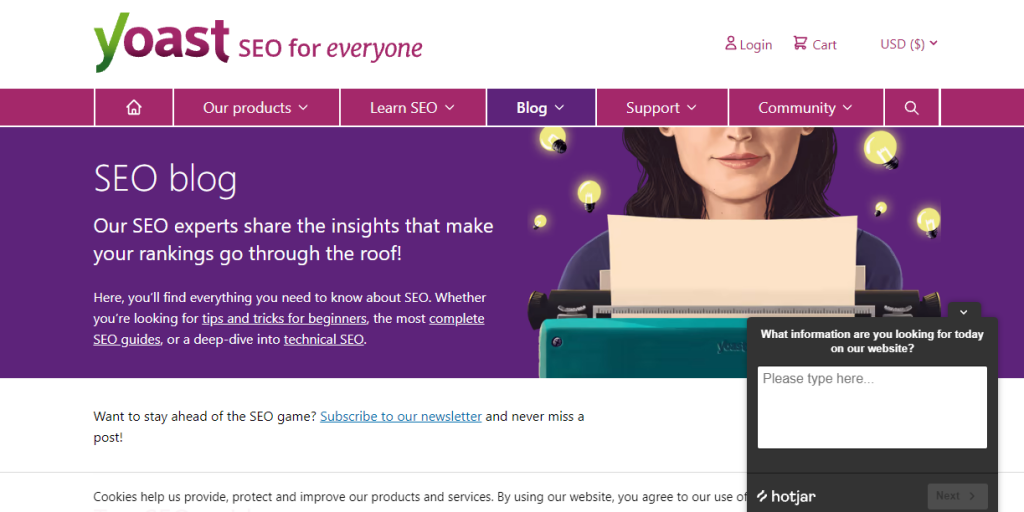 8- Hobo-web
Hobo-web is one of the best SEO blogs built on the basis of single-author content creation.
Shaun (the author) publish content a few and far but his all posts are worth reading. Most of the blog posts are detailed enough with a length of 5000 words almost. All the posts are well structured and written in an easily readable and understandable tone.
You can learn about auditing the site for SEO, building links, SEO techniques, and what SEO tools you should be using to improve your marketing campaigns.
URL: https://www.hobo-web.co.uk/seo-blog/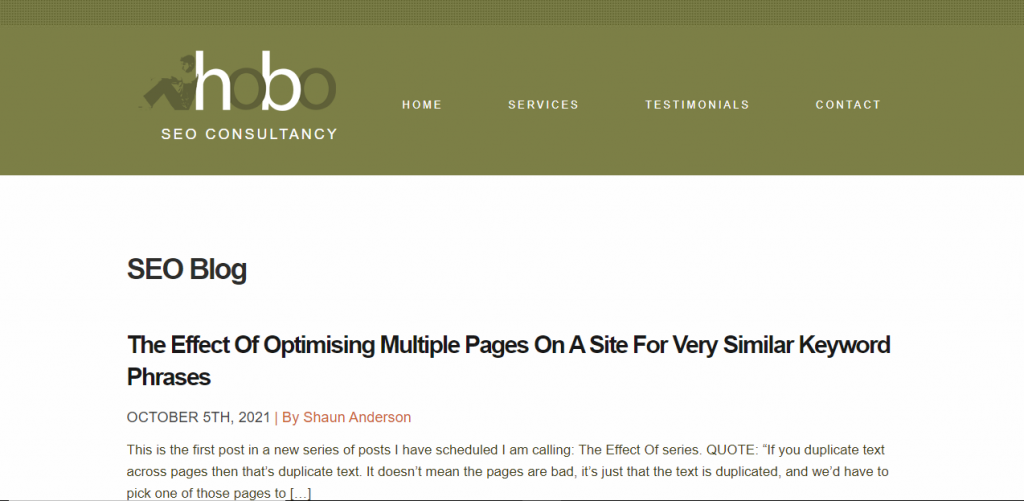 9- Search Engine Roundtable
Search Engine Roundtable is one of the best SEO news sources and they publish 5 to 6 posts daily.
Most of their posts are short just to present readers with industry updates and news, but others are detailed and well-structured to explain SEO topics in detailed manner.
The editorial team also accepts blog posts and submissions from SEO professionals and industry experts.
If you also have some worth reading SEO topics or news, you can submit to the blog. They will review it for authenticity and mistakes before publishing.
URL: https://www.seroundtable.com/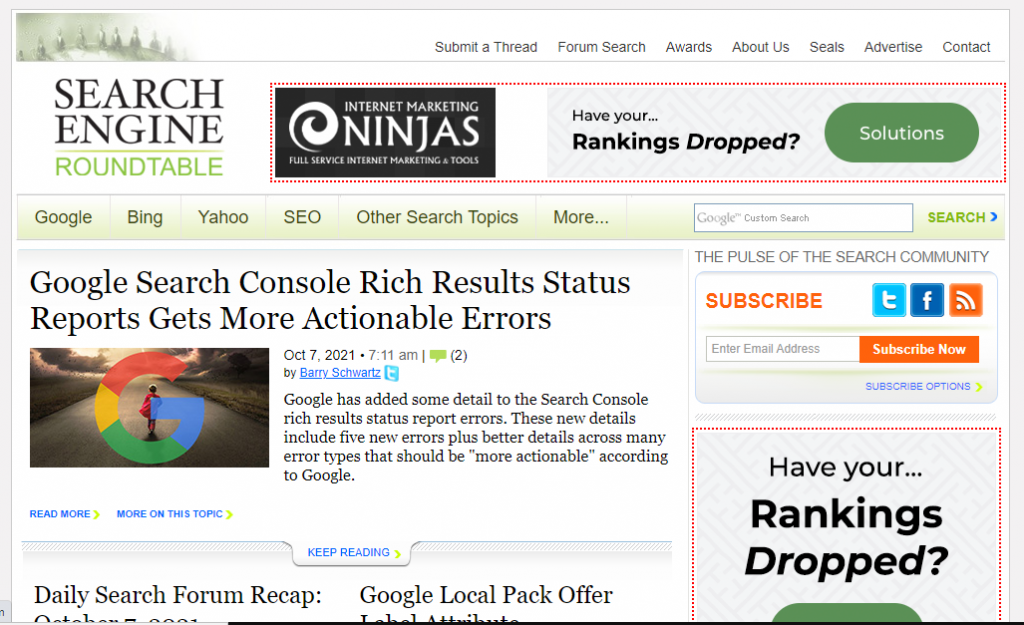 10- Google Webmaster Central Blog
This is the official source of information about SEO and Google updates.
This should be on your reading list if you really want to keep up with Google algorithm updates.
While the blog is mainly focused on the Google search engine and its algorithm, you can get useful webmaster guidelines and instructions to optimize your content to secure higher rankings.
You can also evaluate the performance of your site and maintain it further to make it perform well in search engine result pages.
They also share details and information in the form of media like YouTube videos to make the content easily digestible for users.
URL: https://developers.google.com/search/blog