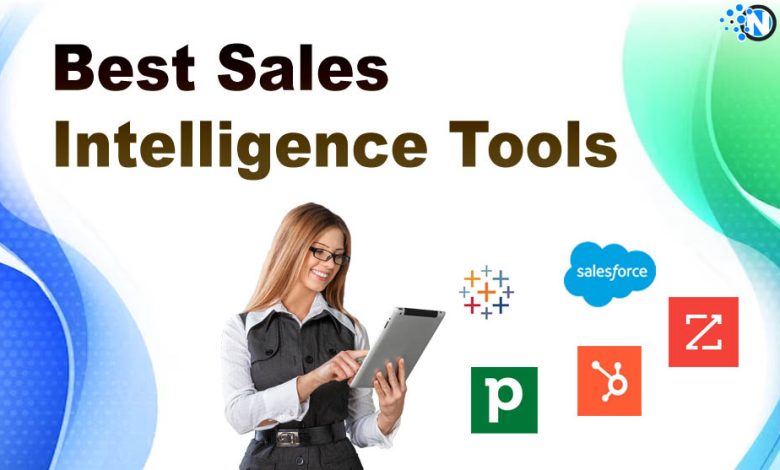 With the rise in competition, businesses are looking to increase their sales. Therefore, sales intelligence tools and software have become indispensable to their infrastructure in 2023. They help the sales team to create new strategies or update the current ones to take their marketing campaigns to an advanced level. Additionally, these tools deliver insight into the performance of your advertisements and other essential data. Hence, you can make well-informed decisions according to the situation for more perks. We have developed this guide to inform you about the top tools and software you can use in 2023 to reshape your marketing department.
What are Sales Intelligence Tools?
Sales Intelligence tools are highly-rated software with complex infrastructure to deliver valuable insights and analytics for enhancing engagement and lead conversion mechanisms. These software are incorporated with exclusive algorithms, enabling them to scrap the data from numerous sources. As a result, they provide you with a comprehensive overview of clients' requirements and needs. By incorporating them into your strategies, you can get the desired results. Furthermore, these tools extract information from social media and the company's databases to personalize your approaches. In this way, you can identify the sections to grab more promising leads, taking your business ahead of the competition.
Best Sales Intelligence Tools and Software
After researching the web and analyzing a wide range of available options, we have enlisted the top 5 best sales intelligence tools and software to use in 2023.
HubSpot is at the top of this rundown for its exclusive benefits and features. Companies utilizing this tool to direct their sales campaign are likelier to receive more sales and transform their leads into money. With the help of several built-in attributes, like sales engagement tools and CRM software, you can better handle the clients and take your company to an ultimate level. Other ergonomic features are in the following section.
The centralized interface offers you access to all the necessary tools.
Also, you will get enormous Email templates to personalize your marketing campaigns.
Further, 24/7 customer support resolves all issues readily to smoothen the process.
Pricing
A free plan is available to test the basic features. While you can subscribe to one of the two premium plans for more benefits. The pricing details are provided below.
Starter: $18 per month
Professional: $450 per month
Owing to the presence of a high-end built-in CRM tool, we have placed Salesforce among the best sales intelligence tools to use in 2023. It features a highly intelligent infrastructure that ensures highly actionable insights to smoothen the sales procedure and addresses the pipeline gaps. Additionally, the integration of Artificial Intelligence lets you understand the customers in a better way, promising uphill outcomes. Furthermore, you will get the following perks.
Salesforce helps you analyze your competitors to explore unknown opportunities.
Moreover, this tool provides updates about the latest trends and developments.
You can also monitor your performance and check the essential changes.
Pricing
Salesforce offers 4 different memberships to accommodate businesses of all levels. You can subscribe to one by considering your requirements.
Starter: $25 per month
Professional: $75 per month
Enterprise: $150 per month
Unlimited: $300 per month
Next, ZoomInfo is also listed among the top sales intelligence tools. If your company is at the beginning level or you have recruited new professionals in the sales department, this software is the best choice to train them on modern standards. Consequently, you can design more effective marketing strategies and manage them more ergonomically. Above all, you will get the following mentioned perks.
ZoomInfo provides you with more valuable insights to access information.
It also delivers intelligence reports regarding the organizational structure.
Moreover, ZoomInfo features a simple interface for enhanced accessibility.
Pricing
The platform has not revealed its pricing details. You have to send a custom quote as per your requirements and business outreach. The customer support team will forward your data to the respective department, generating a pricing plan accordingly.
Tableau is claimed to be the best as it facilitates the creation and sharing of data analytics across the whole organization. In this way, it simplifies the work and reduces the need to create a pie chart to enable the sales management team to understand the next strategy. Through these insights, professionals are able to visualize and analyze data readily. We also have enlisted some other attributes in the following section.
Drag and drop function is available to add documents or files without any hassle.
You can also create presentations by using the visual elements present inside.
Above all, Tableau shows multi-device compatibility to use it on mobiles, laptops, and PCs.
Pricing
Unlike the other platforms, Tableau offers different plans for individuals and companies. We have listed all of them in the under-section alongside pricing details.
Viewer: $15 per month
Explorer: $42 per month
Creator: $70 per month
Businesses always look for a platform that best fits their needs and is versatile to accommodate different tasks. Therefore, we have included Pipedrive among the best sales management tools and software for 2023. This platform showcases many different features, including custom fields and automatic sales assignments. Hence, it streamlines the whole sales procedure. Furthermore, it accommodates numerous automation systems for repeated tasks without manual inclusion. Some exclusive features are the following.
A built-in email marketing software is present, especially for beginners.
In addition, you can make unlimited contacts to upgrade your business outreach.
Pipedrive CRM also plays an important role in smoothening the sales steps.
Pricing
Pipedrive offers a wide range of subscription plans. Thus, businesses of all sizes can utilize the perks of this high-end platform. The details are provided in the following section.
Essential: $9.90
Advanced: $19.90
Professional: $39.90
Power: $49.90
Enterprise: $59.90
Final Verdicts
The sales intelligence tools and software of 2023 deliver sales professionals with insights and automation techniques. Thus, it improves their data-driven decision-making capabilities required to move ahead of the competitive market. Salesforce and HubSpot are the giants in this field, accompanied by high-performing and customer-centric platforms like Pipedrive and Tableau. By leveraging these tools, you can bring automation in several steps to accomplish various aspects of the sales process. Therefore, you must look forward to grabbing the one according to your requirements and needs.