Tablet
Best-buy tablets for 2017 – A perfect guide for a gadget-freak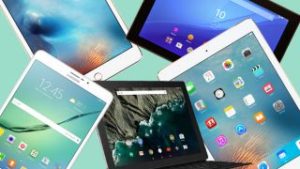 When you're out in the market shopping for a tablet, it is tough to know where to start. There are many factors to take into consideration like budget, portability, primary usage and battery life. The best tablet that you can but has definitely changed in 2017 due to the debit of New iPad, Apple iPad Pro 10.5 and also the Samsung Galaxy Tab S3. In short, tablets are actually coming back this year and we are all set to see some of the best tablets that you can buy in 2017.
The best tablets are all about combinations. They offer you a combination of decent keyboard and styling experiences along with thin and light designs. When you use a good tablet, you keep wondering to yourself, 'Why do I need to use a laptop when I have this tab?' But the only problem is that there are lots of choices, so much so that you will be spoilt for choice. Let's check out the names of the best buy tablets for 2017.
New iPad (2017)
This is perhaps the best iPad that offers you lots of power and is full worthy of your dollars. It has iOS 10 with a screen size of 9.7 inch, 2GB RAM, 32GB/128GB with a rear view camera of 8MP and a front camera of 1.2 Mp. The beautiful 9.7 inch screen is something to look forward to and it is cheaper than its predecessor. However, it is said to be thicker than Air 2 and you don't get the 256GB option here. The chipset is the only real upgrade with Apple's A9 heart giving the new iPad more power. There is no 16GB model and the iPad kicks off things at an even more reasonable 32GB considering the fact that it's cheaper.
This is a future-proof tablet which has got a screen ahead of its competitors. It weighs 429 g, has got in-built Android Nougat, resolution of 2048X1536, 4GB RAM, 32GB storage, 13MP rear camera and 5MP front camera. This Galaxy S3 includes an S-Pen stylus which comes free with the phone and it has also got an HDR-ready future-proofed screen. The manufacturers say that you're not going to get any better Android tablet than the Tab S3. It has got 4 speakers which sound extremely good as those that you find on iPad Pro.
This is Apple's new flagship tablet. It weighs 469 g, has an iOS 10 operating system, resolution of 1668X2224 pixels, 4GB RAM, 32GB/256GB/512GB, rear camera of 12MP and front camera of 7MP. For anyone who is serious about getting a big-time tab upgrade, the iPad Pro 10.5 is definitely the best one. The cheaper version, the iPad 9.7 is also good and popular among most people. The new feature called ProMotion adds another impressive layer of fluidity for regular use and a smaller bezel will mean that you're getting more display in a footprint which isn't bigger than previous year's 9.7.
What if the iPad were manufactured in China? The Asus ZenPad 3S 10 weighs 430g, had got Android Marshmallow OS, 9.7 inch screen, 32GB/64GB storage, battery back-up up to 10 hours, rear camera of 8MP and front camera of 5MP. The strong hi-resolution display, swift response and its sleek design are few of the reasons behind its popularity. Instead of iOS, this tab runs on Android and its performance is solid.
So, if you're a gadget-freak who is eager to get the best tablet of the year 2017, you should choose among the ones mentioned above.