Software
AudFree- The best Tidal Music Converter Out There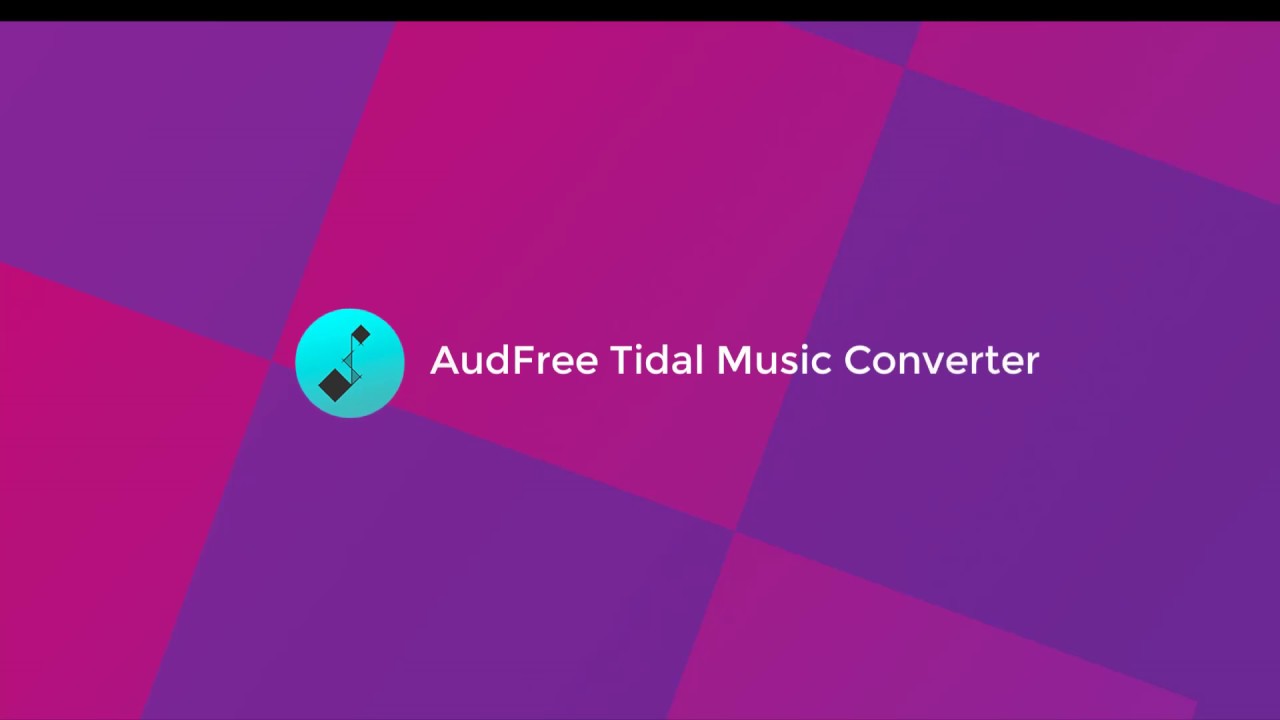 There are several music streaming applications available that offer quality music. Some of them are free and others are paid with subscription options. Tidal is one of the best subscription-based (paid) online music streaming app and provides optimal quality of music. After getting a subscription to this popular music platform, you are able to access almost 60 million music files and tracks. This music streaming service allows you to download music files and songs on your mobile phone that you can play and listen to any time whenever you want even without using an internet connection.
But you can enjoy download music just on your mobile devices and unable to download or copy music files to your computer or laptop. Furthermore, you cannot convert downloaded music files to any other file format. This is the place where a reliable third-party tidal music converting service comes into play. AudFree Software is one of the best Tidal music converters in the market that you should try to enjoy an excellent music experience.
Introduction to AudFree Music Converter
The AudFree Tidal music converter is the best music converter in the market and allows Tidal users to download and convert music files conveniently on PC. With great features and options, AudFree lets its users download songs from the Tidal playlists and library that can easily be converted into other audio formats. As a result, users can easily transfer and play songs and other music files across different mobile devices and desktop without facing DRM issues.
Downloading and converting Tidal music with AudFree is easier than ever before as it removes DRM protection from music files and converts them into a variety of formats including M4A, MP3, AAC, and M4B, etc. even without compromising the audio quality.
This amazing Tidal Music Converter can be used on both Mac and Windows computer to download and convert music files from the library of Tidal.
Features of The Audfree Tidal Music Converter
AudFree Tidal Music Converter comes with all essential features that a good music converter must have. It helps you extract and convert music files from the Tidal library and convert them into plain audio files so you can share and play them conveniently on different devices or computers. Below are some amazing features that you can enjoy with this high-quality music converter.
Ease of Use
AudFree Tidal music converter is lighter for just 2.0 MBs and can quickly be downloaded and installed on the desktop. You can download and install it on both Windows and Mac OS. Hence, you need to download the updated version of the software to use it in the best possible way. There are no higher PC requirements to use this software as you can use it on a normal system with just 512 MB of RAM and a 1GHz processor.
Clean and Appealing User Interface
No technical software operating expertise and skills required to use the AudFree music converter as it comes with a simple, clean and appealing user interface with simple options and navigation. You can see all the necessary controls and options on its main interface once installed successfully.
Plenty of Output Audio Format
With this optimum Tidal music converter, you are better able to convert music files downloaded from Tidal into almost 6 common file formats such as AAC, MP3, M4A, M4B, WAV, and M4B, etc. Just upload the music file you need to convert and choose an apt output format to get it in your favorite file format. Once converted successfully, you can share and play converted files across different devices like a desktop computer, laptop, Android devices, and Apple devices, etc.
Optimum Audio Output Quality
There are many music converters available that convert music files into the required format but ruin the output audio quality. When using Tidal music converter by AudFree, there is no need to fear about the quality of output files as it retains 100% genuine audio quality when converting files into other formats. Furthermore, you can also personalize the settings of output audio to the required audio parameters.
Playback Music without Tidal App
Popular music streaming apps and services including Tidal allow their users to enjoy music as playback on registered devices. With the AudFree Tidal music converter, you can download and convert Tidal music files so you can enjoy them across different music players even without using the Tidal application. You can also store the downloaded music files on your computer to play them without Tidal.
5x Conversion Speed
Don't look further if you are looking for a high-speed Tidal music downloader and converter at the same time because you can be baffled by the output speed offered by AudFree. With this Tidal music converter, you can experience a 5X file conversion speed that helps you convert as many files as you want in a short span of time.
Cross-Platform Tidal Music Converter
When using AudFree Tidal music converter for windows, there is no need to download a separate downloader for your Mac because you can use it on both Mac and Windows. Just download the preferred software for Windows or Mac and install it to convert Tidal music files into other file formats without losing original audio quality.
How to Use AudFree Tidal Music Converter to Download Tidal Music
AudFree Tidal Music Converter is easy to operate. No need to master technical skills, it offers an intuitive user interface for users to download Tidal high-quality and HiFi music to computer with ease. No matter you are using a Tidal Premium or Tidal HiFi, you can use this tool to get offline Tidal files.
Step 1: Add Tidal Songs to AudFree Tidal Music Converter
Download this extraordinary Tidal Music Converter on your Mac or Windows desktop. Then open it with the Tidal app launched. Login into your Tidal account details. If you have done that before, you can skip this step. And then browse and find the songs, playlists that you'd like to download, click the 'three-dot' icon > 'Share' > 'Copy Tidal Track' or 'Copy Playlist Link' and paste it to the given space.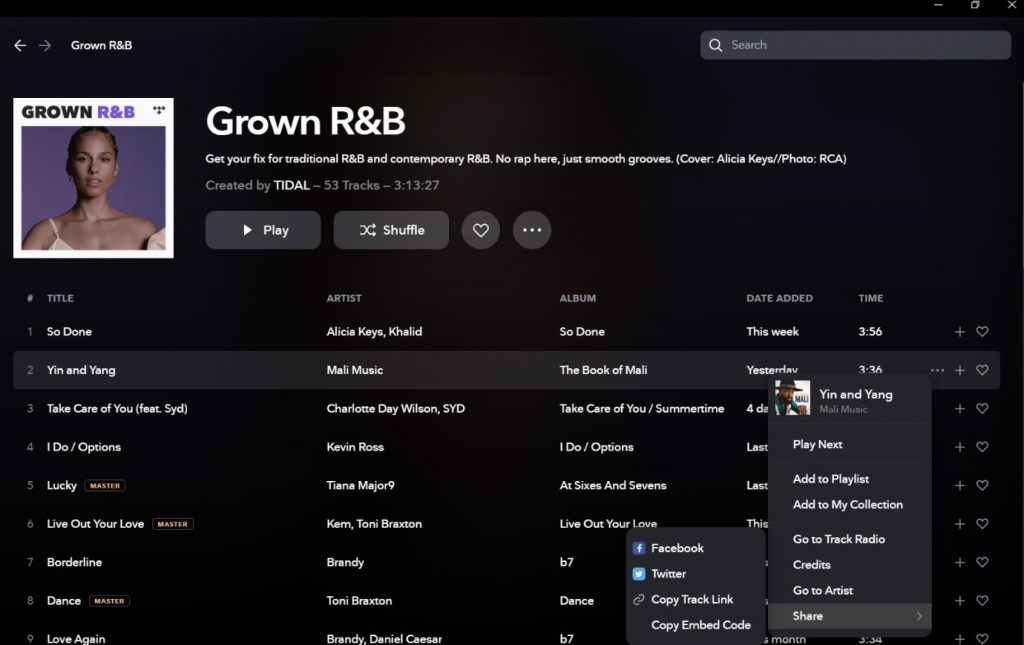 Step 2: Set Output format for Tidal Downloads
Please open the setting window by clicking the top-right menu bar to choose the 'Preferences' > 'Convert' option.
Now, it's able to set output format as MP3, FLAC, WAV, AAC, M4A, or M4B according to your special needs. From the new window, you will see that you can also customize other audio parameters, like bit rate, sample rate, etc. If necessary, it can also check the mark before conversion speed option to make the conversion speed as 1X.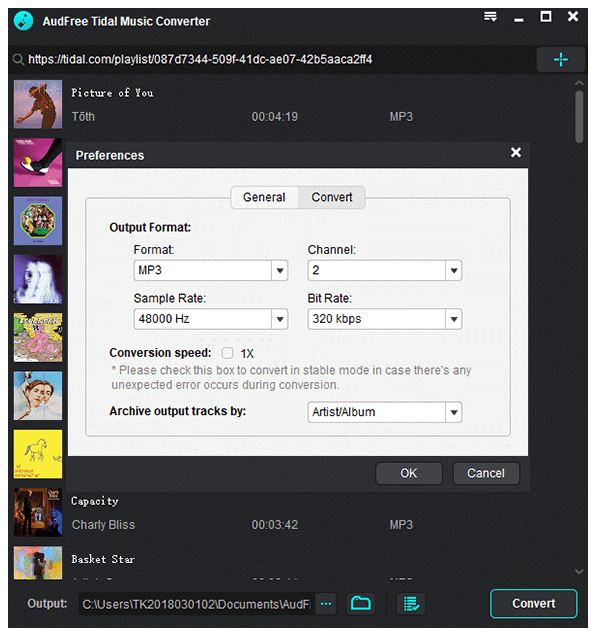 Step 3: Download Tidal Music (High-quality, HiFi, MQA) to Computer
When all things are done, simply press the big 'Convert' button from the main interface. AudFree Tidal Music Converter will start to launch the downloading process to download Tidal music to computer at 5X faster speed. After conversion, you can locate them by clicking the 'history' > 'search' icon.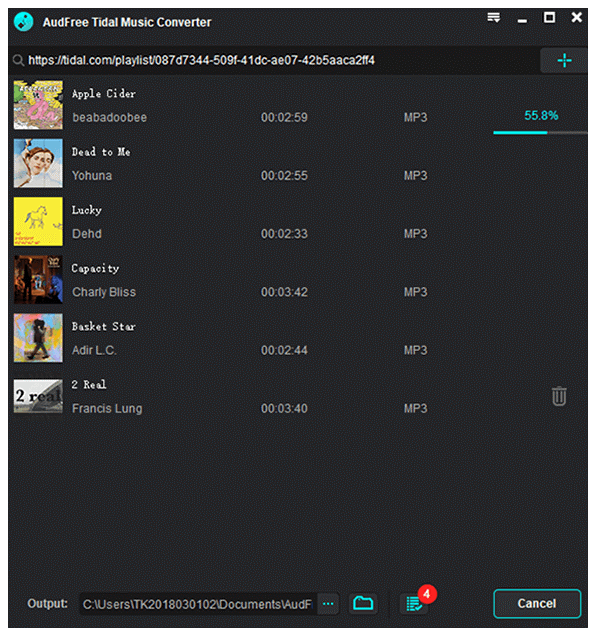 Final Verdict
That's all about AudFree Tidal Music Converter features, and how to use it to download Tidal music, playlists, albums to your computer. Without a doubt, it's a nice Tidal assistant to make the Tidal playback easier and better.
If you are the one who subscribes to the Tidal plan, you can't miss this excellent software. With the help of it, it's able to play Tidal music offline on all devices and players even without the Tidal app. Now, it's the end of our part, you can test this tool by yourself to see whether it's your taste.