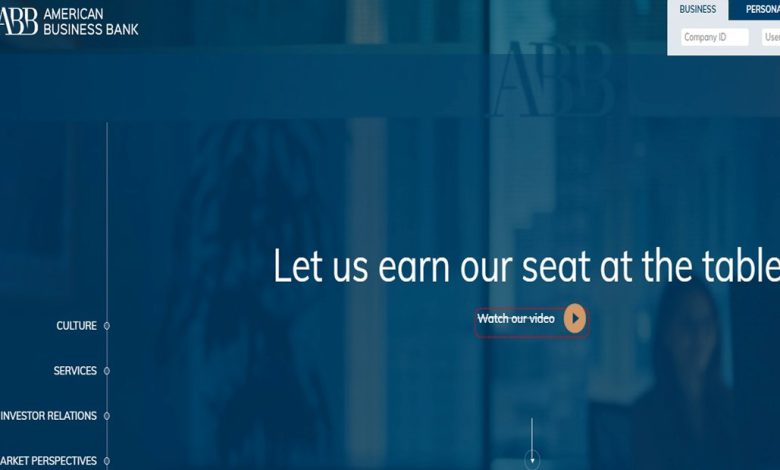 The company was established by Robert F. Schack, Robin C. Paterson, Trent D. Merrill, John Schlobohm, Leon L. Blankstein, Donald P. Johnson, and David van Skilling in 1998 under the name of U.S Business Bank. Later on the 30th of April in 1999, its name was changed to American Business Bank. It's a bank serving the people of the United States. This bank, like other ones, offers various financial services such as the provision of loans, treasury management, credit, deposits, asset-based landing, etc. It has hundreds of clients such as manufacturers, merchants, contractors, service businesses, and non-profits.
Why Choose American Business Bank ?
The American business Bank is growing successfully even after the Covid pandemic. According to the official first-quarter report of 2021, the total assets of the company increased by 46% between the 30th of March, 2020 to 30 of March 2021. Also after excluding the Paycheck Protection Program (PPP), the total loans still increased by $3.9 million in the mentioned time under extremely challenging conditions
of economic fall due to the Covid pandemic. Another strong point is its client acquisition that reached up to $250 million. So, only in the first quarter, the net income was 8.9 million that is 84 % than the previous quarter. It also provides job opportunities and career-building chances to enthusiastic young entrepreneurs and students. So, it can be called a hub or home for middle marketing businesses in the region of South California.
Provision of services:
American Business bank offers its services to almost all sorts of people from any field. It has clients from almost every profession whether it's a businessman, an ordinary merchant, a contractor, a job person, etc irrespective of their caste or race. Although we know the main service offered by a bank but all banks have their policies and comfort zone for their clients. The American business bank provides a comfortable environment for their clients. The services that this bank offers includes:
Relationship banking
It is not only an American Business bank but it understands your situation and professional advisors from the bank give you appropriate advice according to your circumstances. It works with its clients to grant precise guidance according to business progress. Here I have enlisted the various services under this option:
Credit ( Short Term Working Capital Lines of Credit, Corporate Credit Cards, Commercial / Industrial Real Estate Loans, Accounts Receivable Lending, Equipment Financing )
Depository ( Business Demand Deposit Accounts, Business Money Market Accounts, Business Savings Accounts, Business Certificates of Deposit, Special Deposits (Escrow, Bankruptcy), Zero Balance Accounts, Sweep Accounts, Fiduciary Accounts
Treasury Management
Asset Based Lending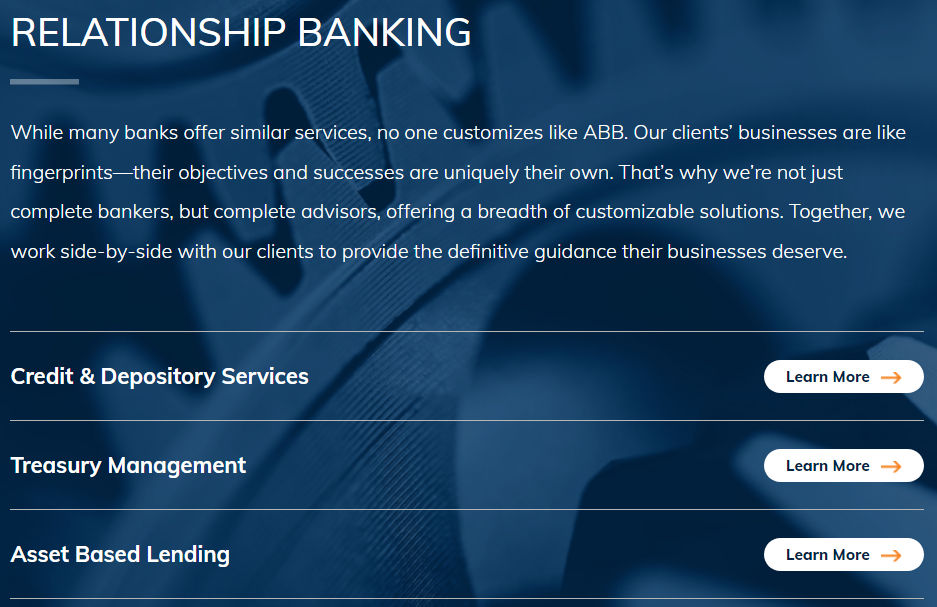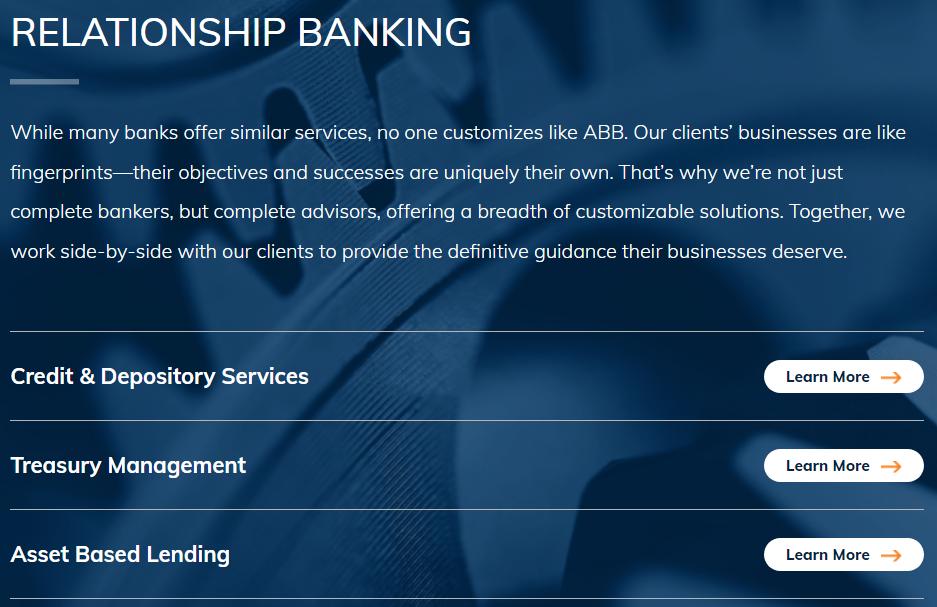 Telephone Notification
It keeps its customers aware of their affairs and activities through notifications. It gives a sense of security to the customers and they can monitor if their card is not misused.
Returned Items
Courier Service
Maturing Investments
Incoming wires
Investment Services
SBA Lending
Small Business Administration (SBA) is the sector that often faces problems and difficulties in getting a loan. The SBA Professionals of American business banks understand the problems of these sectors and are greatly experienced. They present the client's needs with an interpretable approach to the heads and provide many comfortable offers to the customers. The collaboration of the Conventional SBA department, State Guaranteed instruments makes the customized offers for customers according to their respective needs and conditions.
For the ease of customers, the bank has seven Loan Production offices in
North Orange County in Anaheim
Orange County in Irvine
South Bay in Torrance
San Fernando Valley in Woodland Hills
Riverside County in Corona, Inland Empire in Ontario
LA Coastal in Long Beach.
Different SBA Lending programs are designed by the bank to assist customers in expanding their small businesses. For instance, it offers:
SBA 504 program ( project size range from $250,000 to $25,000,000 on as less as 10% down on total project)
SBA 7a (can give loan up to $5,000,000 with relatively entended maturity and lesser money count)
International Banking
With the continuously growing global economy, ABB is also running to excel in competition. Acknowledging this need of the hour, it also provides a full range of international banking services. So that clients can transfer their money to and from abroad or exchange their currency. Hence comforting its clients in doing international business.
International money transfers
Import and Export Commercial Letters of Credits
Standby Letters of Credit
Documentary and Clean Collections
Foreign Currency Exchange
Consulting and Referal Services
It offers customizable consulting services such as:
Treasury Consulting
Debt Structure Consultation
Lease vs. Buy Decisions Acquisitions
It also provides referral services such as:
Investment Banking, Investment Management
Equipment Leasing
Residential Mortgage Lending
Professional Referrals (CPA's, Attorneys, etc)
Investor Relations
American Business Bank believes in collaboration work and that is why it gains the trust of clients by doing proper accountability, accessibility, action, and interactiveness. In this way, a balanced and prospering relationship develops, and strong targets and results are achieved for the shareholders. The bank invests in employee development and provides him as much ease as it can.
Market Perspectives
The perspective of ABB is to make the target with passion and lead with action. The professionals keep an eye on the market trends, keep themselves educated on the cutting-edge industry, and economic news. It also uses cyber security features to secure the customers' data and asset information. Also, it keeps its clients aware of the marketing trends and situations.
Culture
The Speciality of American Business Bank is that they only say what they can do. They firmly believe in honest relationships, protection of clients' interests, and stable practices. It develops honest relationships with clients and nourishes them properly. In this way, they earn the client's interest and assist them in driving their business through proper channels and strong balance sheets. They keep their clients up-to-date about their billing credentials and other related things through emails and text messages.