A fantastic, relatively portable alternative to the fast and enormous desktop PC is a gaming laptop. Over time, Acer's selection of gaming laptops has improved. The Nitro 7 from Acer is a prime display of how every choice counts when creating entry-level gaming laptops. We appreciate that the Acer Nitro 7 doesn't have a showy exterior. At least for the time being, the Acer Nitro 7 is thankfully one of the easier Acer models to use. There are just three models, priced between $1,100 and $1,300.
The Acer Aspire Nitro 7 specifically satisfies gamers because it is packed with features for gaming laptops. If you're looking for a gaming laptop with a thin chassis, excellent performance, a quick display, and reasonable value, the Nitro 7 should be on your list.
People utilize the Acer Nitro 7 to expand their gameplay to higher altitudes and destinations. However, it is a decent one with small edges that can provide a more seamless gaming performance. The Acer Nitro 7 has the large capacity to provide exceptional performance for the money.
Why Acer Aspire Nitro 7 is the Best Gaming Laptop?
The Acer Aspire Nitro 7 is a branded gaming laptop with a metal frame and affordable extra features including a high screen refresh rate. It is considerably less priced and includes the majority of the functions that gamers on a limited budget are hunting for.
It offers exceptional functions that are now considered standard for gaming best laptops. The attractive metal style, long battery capacity, and capacity to support a maximum of 3 storage drives are the great features of this mid-range gaming laptop. If you're looking for a perfect gaming laptop with these features, the Nitro 7 deserves to be on your wish list.
General Specifications
The Acer Aspire Nitro 7 is the ideal option for people who are searching for a cheap gaming laptop to get started. The other premium laptops available in the market are more expensive than the Acer Nitro 7. Here, I have discussed some major and unique features of Acer Nitro 7 that make it the best mid-range gaming laptop.
| | |
| --- | --- |
| Brand | Acer |
| Weight | 2.5kg |
| Height | 19.9mm |
| Model | Nitro 7 |
| Model number | AN715-51-76LS |
| Color | Black |
| Operating Windows | Windows 10 |
| Model of CPU | Core i7 |
This popular gaming laptop has an HD web camera and 2 speakers. It also has the feature of a touchpad pointer device which is demanded by game experts.
Display screen
Acer Aspire Nitro 7 has a 15.60-inch display screen with a 144Hz screen refresh rate. This mid-range gaming laptop has a resolution of 1920 x 1080 pixels. People can enjoy playing the most difficult computer games with this large display screen and high resolution. This display is a good option for both regular use and games.
Metal-style Lid
Acer opted to give the underside of the Nitro 7's screen covering a stylish metal appearance. It is very thin 19.9 mm in height. It looks very decent and unique.
Processor
This gaming laptop has a processor of Intel Core i7 9th Gen 9750H. It has the most powerful processor which is ideal for gameplay. This Acer laptop has an updated version and a very fast speed. The Nitro 7 has a burst clock speed of 4.5 Hz and a black clock speed of 2.6 Hz.
Memory
The Nitro 7 has 8 GB RAM. The more demanding laptop for gaming needs a memory of up to 8GB RAM. It has 2 slots of RAM.
Storage
The hard disk size of the Acer Aspire Nitro 7 is 256GB. It has an SSD of 2 terabytes. This storage capacity makes it more attractive and effective for mid-range gaming laptops.
Connectivity
The connectivity standard of Nitro 7 for Wi-Fi is 802.11 a/b/g/n/ac. The updated version of Bluetooth in this gaming laptop is 5.
Ports
The Acer Nitro 7 has four ports for USB and also has a jack for headphones. It has a standard HDMI port.
Performance of Acer Aspire Nitro 7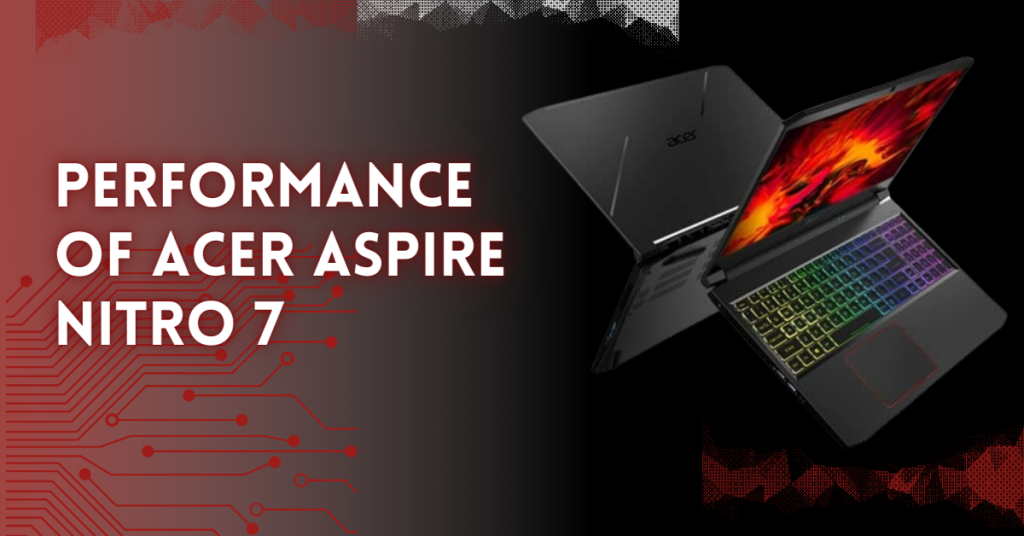 Acer has designed this Nitro 7 series very technically for gaming and it is a thinner gaming laptop among all other laptops available in the marketplace. Although it performs well, this laptop design is incredibly fashionable and sleek. It is perfect for streaming video due to its powerful visual and processing capabilities.
Acer softened the edges and the top border of the laptop to make it more user-friendly. This series of Acer has a proper cooling system for the laptop to maintain the performance of this unique mid-range gaming laptop.
Design
This latest design of Acer differs from its other series laptops with a slightly modified design, slim screen corners, and a laptop body coated in aluminum metal. The keyboard keys are beautifully designed with red backlighting and are evenly spaced. Some extra keys are also added to the keyboard for boosting the gaming experience and performance.
This laptop has an FHD screen, 4 levels of screen brightness, and the operating system architecture is 64-bit. It has a special gaming keyboard for gameplay and stereo speakers. The display screen's outstanding viewing angles, image quality, and vivid colors only serve to enhance it.
People can easily use this laptop for gameplay for five hours without plugging it into the charger. The battery capacity of this Core i7 laptop is very long.
The aluminum metal surfaces are very smooth to the fingertips and touch. A user will need to frequently clean the black smooth surfaces because they are very likely to accumulate fingertip sweat, oils, and stains. Powerful and fast processing combined with a rich sensory experience defines this Acer Nitro 7 as the ideal device.
Price of Acer Nitro 7 Gaming Laptop
If a person wants to purchase a gaming laptop without paying a lot of money, then the Nitro 7 is a great option for him/her. The price of the Nitro 7, the best gaming laptop is less than other most expensive gaming computers and laptops. This Acer series has prices between 240,000 to 247,000.