Gaming
How To Play Rocket League Cross-Platform?
Rocket League is one of those fun-packed and thrilling games that is known for its simplicity and sheer brilliance. It is easy to understand the game: you control a vehicle and play a game of soccer with a massive ball. The team that scores more points wins the match. Such simplicity makes this game a fan favorite. If you are looking for a game to play with great dedication or to just kill some time during the breaks, Rocket League is a great option.
For those looking to take their skills across their gaming platform, Rocket League is perfect! The game has a cross-platform feature that allows players to play with or against other players on other platforms. The ability to play cross-platform makes the game of Rocket League more relevant and interesting, making it a very successful game!
Also Read:
How to create better Brand Awareness of your Business with Business Publications?
Online Games That Improve Your Intelligence
The Rocket League Cross-Platform Features
A full cross-platform feature was introduced to the game just recently, owing to the great demand of the players. Today, the game enables the players to play across different gaming consoles, from the PlayStation 4 to Nintendo Switch. It doesn't matter on which platform you and your friends are on, with the cross-platform feature, you all can play with each other with ease.
In Rocket League, players from any gaming console will enter the same matchmaking. Therefore, while playing online, you are likely playing with gamers from other platforms. Unlike some other games, you do not need any external crossplay account. If you have regularly updated your game, cross-platform will be enabled internally.
How to Play the Rocket League Cross-Platform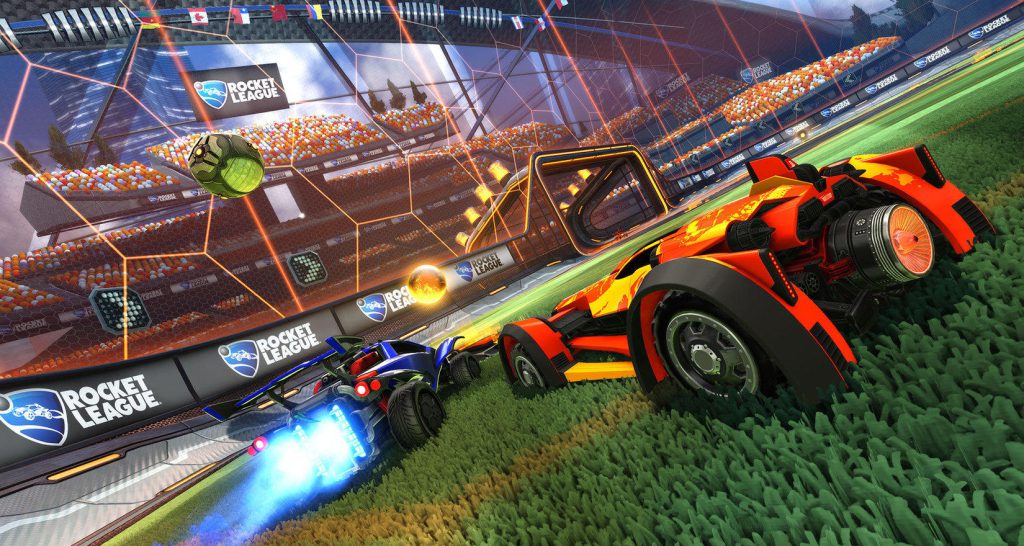 Rocket League Cross-platform mode is enabled by default. However, you can always check its status by going through the settings of the game. Moreover, if you want to play with other players from the same gaming platform as yours, you also have the option to turn cross-platform off. To do this, follow this sequence: in the main menu click on Options and there click on Gameplay to change the settings to fit your requirements.
There will be a box with the name of Cross-platform beside it. If the box is filled, that means your game enables playing with other players from different platforms. On the other hand, if the box is empty, that means the cross-platform is turned off.
If you have turned this setting on, you will be able to play with gamers from different platforms in both private and public matches. Furthermore, you can add friends from other platforms easily just the way you would have added friends from the same platform.
Is the Cross-Play Feature Perfected?
Rocket League has a completely enabled crossplay, at least when it comes to the gameplay. However, there are minor differences in the different consoles. For instance, some vehicles such as the Hogsticker and Armadillo are exclusive to users of Xbox One. On the other hand, the Sweet Tooth battle car is available only to users of the PlayStation 4. These vehicles will also be called differently in PC. The Hogsticker and Armadillo vehicles will appear as the Octane and the Sweet Tooth will be the Merc to PC players.
The biggest limitation in Rocket League cross-platform is the in-game chat. So far, neither in-game voice chat or typed chat is supported in cross-platform matches. However, players can send fast and small blurbs to maintain communication with the team.
In Rocket League cross-platform mode, players cannot trade with others. However, you can still trade with players from the same platform.
Read More from Our Tech Blog:
Types of Advertising Flags that You Can Custom-Create for Your Business
Business and Marketing Tips: How to Write a Research Proposal to Get Sponsorship
Cross-Platform Progression and Saving
Rocket League is a free-to-play gaming title on various gaming platforms such as the PS4 and Xbox One. Along with this change, Psyonix has also added an across-the-platform progression. For PC, the game is exclusively shifting to the Epic Games Store. However, no matter the platform you play on, your entire progress will be carried over. Your "progress" includes the items the player owns, the rank of their Rocket Pass, and their competitive rank. All of your progress is linked with your account on Epic Games.
The Friends List
Rocket League's cross-platform became complete with the update of the friends feature on February 19, 2019. This new update brought a whole new Friends List on the game's main menu. In this tab, you can check the status of your friends on Rocket League from every platform! This list consists of four sub-categories, these are:
Friends– This tab will show the friends that you have on the current platform.
RocketID- This tab will show the online status of your friends, no matter their platforms. After this update, each player was auto-assigned with a RocketID that is essentially your username along with four random numbers (e.g- starsmittens2113). You also get to change your RocketID username any time you want.
Recent Players- Your most recent teammates will be displayed in this tab. If you found a random player with great chemistry, you can easily send them a friend request from this tab.
Alerts- This portion contains all of your in-game interactions. Be it friend requests or any notifications about club invitations, all would be displayed here for your convenience and ease.
Are You Ready To Play Cross-Platform Rocket League?
Now that you have understood the cross-platform feature of Rocket League in detail, it is time to dive deep and enjoy with friends across different platforms! Now, enjoy playing the game of your choice with no restrictions!
Follow our tech blog to learn more about the best technological gadgets in the market along with gaming solutions made easy for you! Our tech blog is filled with insightful content that will help you with all of your tech and gaming-related needs!